Jack Newark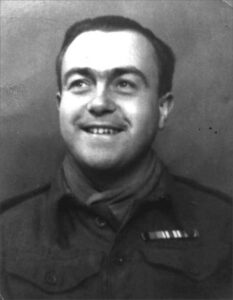 JACK NEWARK  1920 – 2013
The world is full of heroes is a song written by Nemo to play at the funeral of his "dear old dad" who passed away peacefully in October 2013 aged 93. He also wrote this obituary.
Jack Newark was an extraordinary man who led an ordinary life.
Born in Lambeth in 1920 to a kind but irresponsible father and a mother who spoilt him to the point where in his own words he was "the most horrible child that ever lived." He was born when his father was 51 which led him to be referred to affectingly by his father as "the scrapings of the pot."
With his father failing to provide for his family, Jack was brought up in what we would today call a slum with no bathroom and a kitchen that consisted of a single tap coming straight out of the ground. Incredibly, his family was regarded as one of the better off families in the area and it always haunted Jack that just down the road there were houses which shared a single outside toilet and water tap between six families. The extreme poverty he saw haunted him all his life and was the cause of his burning desire for a true socialist state where everyone worked for the common good.
Despite never having gone to school it appears that Jack taught himself to read and during the 34 years he worked at the central post office in London he went through all the books that the local library had to offer with a particular love for Dickens. He loved the theatre and what little money he did have was invariably spent on theatre tickets. His greatest regret was that his lack of education prevented him from finding a fulfilling career and he would have loved nothing more than a career in theatre management.
Jack's elder brother Cyril was a bookmaker at various racecourses and before the war he used to employ Jack as his clerk meaning he had to make complex calculations on betting odds despite never having had a maths lesson in his life. It was during his years as a bookmaker's clerk that Jack saw a sordid side of life which he detested but was unable to escape from. It wasn't until he was conscripted into the army that his life really began. War is a terrible thing but it has to be said that for Jack it was the best thing that ever happened to him. It took him from a life of squalor which he hated to a life of foreign travel and comradeship when for the first time he was able to indulge in meaningful conversations with friends. Posted to serve in the officer's GHQ in North Africa he found a life of luxury and his fondest memory came in Italy when his regiment used the Palace of Naples as a naafi where soldiers of all ranks were waited on hand and foot.
But of course, Jack saw his share of horror during the terrifying advance from Monte Cassino in the South of Italy to the North where he was caught up in heavy fighting when he saw many of his comrades killed. The constant mortar bombardment caused him to suffer from shell shock and many years after the war ended he would wake up in his sleep screaming.  For the veterans of those days there was no name or recognition of the torment that soldiers carried with them from the war. Like many war veterans he was haunted with guilt by the fact that he survived when so many of his comrades died. Why did he live a long and happy life when his hero Captain O'Brian who saved his life and many others was killed leaving a wife and children.
When war ended Jack was stationed in Milan where he met a young 16 year old girl called Teresa. He proposed to her within a week but had to wait seven months before she accepted. Unfortunately, his commanding officer didn't want his men to marry local girls, so Jack went ahead and married without permission. When they returned from their honeymoon Jack was arrested and put in a civilian prison with murderers in the cells either side of him. When high command discovered what had happened Jack was released immediately and the men were free to marry so Jack became a hero. When his five year old son Derek heard this story for years he naturally assumed it was a normal part of the marriage process for the bridegroom to be put in prison after the wedding.  Their marriage lasted 67 years.
During Jack's war years he had many brushes with death including an occasion when his finger was accidently shot off by a friend and the resulting stay in hospital prevented him from going into a battle the next day where most of his comrades were killed. Years later he contracted septicaemia when he had a near death experience. In his eighties he caught hepatitis which led to a stroke and there seemed little chance of survival but he made a full recovery and apart from other occasional brushes with death he lived seventeen more happy years before having a massive stroke in his sleep. Even then, despite Teresa being called to his bedside as he was not expected to survive the night Jack hung on for another 10 days before finally passing away peacefully in his sleep. Most people would say his final stand was a stubborn determination to hang on to life but being a passionate socialist anyone who knew him would suspect it was the fear of seeing Margaret Thatcher again in the afterlife.
It was only the night before his stroke that his neighbour Adrienne came to visit and he told her what a wonderful life he has had. Though there were periods of his working life which were extremely hard on a very low salary he always managed to put money aside for camping and the family's beloved trip to Italy every two years. After overworking caused yet another breakdown he was forced to retire at 60.  Three years later he moved into the modest house of his dreams and where for the first time he had a garden. At the time he said "if I have five years living here before I die I will be happy". He lived there for nearly 29 years which were undoubtedly the happiest of his life.
But Jack's greatest love of all was cricket and he was never as happy as when watching county matches at Sussex Cricket Ground where he insisted on watching every ball bowled regardless of how cold or wet it was. In later years he finally overcame his hatred of Rupert Murdoch and after subscribing to SKY he was able to watch cricket all year round.
Above all, Jack could be described as a truly "good man." Totally honest and incapable of deceit or dishonour of any kind. Even during the toughest years when he had to work very long unsocial hours for very little money he never failed to put his hand in his pocket for charity. A wonderful father who was always there for his children and a loving husband who's first thought was always to provide for his family even through the most crushing of depressions that plagued him during his working life.
Jack will be cremated and so there will be no headstone but if there was the inscription would be his favourite saying "I had sufficient for my needs" surely a goal we should all aspire to.