Just A Few Seconds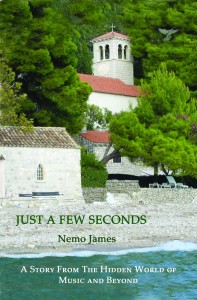 Musicians have always been with us. From cave dwellers knocking out a tune on a blade of grass, to Roman trumpeters at the Colosseum, to buglers marching into battle, to Led Zeppelin at Wembley Arena.  But we only ever hear about famous musicians and their stories of decadence and overindulgence.
There is a common misconception that professional musicians spend half their time playing in seedy bars and the other half queuing up in soup kitchens, but for every famous musician there are a hundred working in the background making a good living with a wealth of interesting stories to tell.
Just a few seconds is a story of a musician whose career takes him from the roughest London pubs to private parties for the mega-rich and famous. From near starvation to a Jet Set life in Gstaad. From the brink of fame to the Birdy Song. From market stall to restaurant owner. From guitar teacher to squash and karate teacher. It is an amusing and heartrending story of perseverance showing how the road to success can lead us down the strangest of paths.
 JUST A FEW REVIEWS
I am not an avid reader of autobiographies but every now and again there is one that comes along and takes you by surprise, one that you don't expect to be as good a read as it is. One such book is Just A Few Seconds. Thoroughly recommended and a pleasure to read
Anthony Lund, Allbooks Review
I cannot believe it.  Crack of dawn and I spent all night turning the pages of 'Just A Few Seconds. 4.12am? Says it all really. A riveting read. A tantalizing cocktail of pathos, drama, suspense, philosophy and humour.
Barrie Tracey – Received Lifetime Achievement Award for services to journalism from NAPA 2009
He is an engaging story teller, and his writing skillfully blends humor and pathos. I Loved the book
Joseph Yurt, ReaderViews.com
I was entertained from the very first page up to the last sentence.  I truly enjoyed this book
Valentina, Carabosse's Library
I just finished reading your book and I must tell you how much I have enjoyed it to the point that I felt sorry I was done with it. I really love your sense of humor.
Guillermo Bettocchi   PHD – United Nations High Commissioner
"His writing is intelligent, reflecting a deep desire to express his experiences. And his ability to bring to life the daily living of a struggling musician is utterly captivating."
Norm Goldman – Bookpleasures.com
Captivating. Written with an ironic and witty sense of humor. highly recommend.
Douglas R. Cobb – www.bestsellersworld.com