Sing For your Child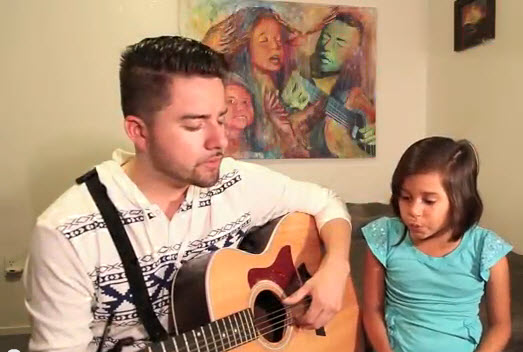 From the Album  The Minstrel
Chorus
Sing for your child, show that you care
There may be no tomorrow
Stay for a while, there's always time to show you care
So sing for your child, sing for your child, tonight
A little child with wondrous eyes
Looks up at her father
Daddy won't you sing to me a while
Sing me songs of magic
And strange enchanted forests
And magicians that cast spells with wicked smiles
My child, I'd dearly love to, but I just don't have the time
There's still so many mountains I must climb
A little child with eyes closed tight
Lies there like an angel
Watched on by her father's misty eyes
Please let her live, the father cries
I can't exist without her
And this is not the time to say goodbye
He feels so helpless and he her king
But then recalls how she loved to hear him sing
For seven days and seven nights
he sits down close beside her
Singing songs of magic in her ear
The mountains he once climbed
Now seemed so much smaller
As the crisis of her illness drew near
Then her eyes slowly open
She's come through the night
Don't worry daddy I'm going to be alright
Now every time he says goodbye
A thought goes through his mind
There may be no tomorrow
So today he must be kind
THE STORY BEHIND THE SONG
It was 1989, and I was staying with my parents after my marriage and businesses had failed. I was just about to go out one night when I had the urge to pick up my guitar. I sat on the edge of the bed, and instantly the words and music Sing for your Child came out. I have never had children or much contact with them, so where on earth that line came from, I have no idea.
We didn't have a lot of money when I was growing up, and as we were a family of six, my father had to do a lot of overtime to make ends meet. Because of that, I didn't get to see much of him, except in the summer when we went camping every weekend. I have the fondest memories of us playing cricket together in the day and sitting by a gas lamp, playing whist or shove halfpenny at night.
Contrary to the message of this song, the last thing I would have wanted was for Dad to sing as he was utterly tone-deaf, but both my parents were always willing to join in with anything we suggested. Maybe that was where the title of the song came from, that the greatest gift my parents ever gave me was their time, the most precious thing we have.