A Hero Unknown
Posted by Nemo
Oct 10
I am sure I am not alone in having a father that manages to turn almost any conversation into an anecdote from his time as a soldier in the second world war and some of those stories I can recite by heart. Now in his 91st year with his short term memory slipping he is beginning to repeat these anecdotes more frequently but there is one that I never tire of hearing and now, 67 years after the event there are still tears in his eyes when he tells it.
My father's Captain was a man named Timothy O'Brien and there was never an officer more loved and respected. On one occasion when my father and his comrades were sheltering terrified in a trench while German mortars fell all around them O'Brien, with no thought to his own safety ran over and shouted to them "stay here and you will all die, if you move then some of you will live," They abandoned the trench without question and sure enough it wasn't long before mortars fell where they had been sheltering and there was no doubt if they had not moved they would have all been killed. They all survived that day. It was that astonishing foresight that led my father to the conclusion that O'Brien being a religious man must have been "touched by God" as he seemed to know instinctively what was going to happen. Whether it was a religious thing or because he was a well educated man able to see things that his subordinates couldn't we will never know. Then one day towards the end of the war his regiment was moving through Italy when O'Brien noticed two of his men walking along the skyline. He ran over and shouted at them to get down but was himself shot and fatally wounded by a sniper.
O'Brien held a special place in my father's heart and there is no doubt in his mind that if it were not for O'Brien he would never have survived the war so my father and all his descendants owe him everything. Like many ex soldiers, my father feels guilty that he has lived a long an happy life when such great men like O'Brien were killed and their families left without a father.
No one has ever heard of O'Brien. He was not awarded any medals and he was buried in a military grave in Faenza in Italy. I feel a sadness in writing this story that for every hero that is acknowledged there must be hundreds who died without anyone knowing of their extraordinary bravery. But then I suppose it is in the nature of a true hero that the only acknowledgment they desire is the knowledge that their comrades survived.
It has always been my father's greatest wish to contact the relatives of Timothy O'Brien and tell them what a great man their grandfather was but sadly with such a common name I have found it impossible to trace him. In recent years, due to the Internet I have managed to find his grave but not his descendants so I would like to make a public appeal for information about this fallen hero. His details are as follows:
Name:  Timothy Joseph O'Brien
Birth: approx 1913
Death 1944
Grave: Faenza War Cemetery
Regiment: West Kent Regiment (The Buffs)
Rank: Lieutenant (acting captain)
Service number: 297236
Residence: Pembrokeshire
Profession: Teacher
Children: At least three at time of death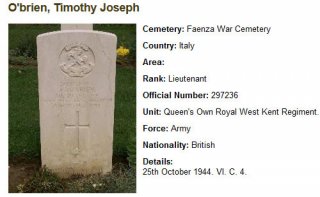 Please email and share this article with your friends and help me find the descendants of O'Brian.